The SNH060, with 60.00mm through bore size and compact 130mm outside diameter, uses SenRing's fiber brush technology which offers several advantages over conventional slip ring contacts including multiple points of contact per brush bundle, low contact force per fiber and low contact wear rates.
SNH060(Standard) Dimensions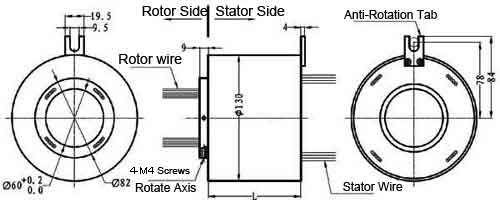 SNH060 Specifications(Standard)
Contact Material

Precious metal brush,Silver plated rings

Current Rating

20A/per circuit

Number of Circuits

12 circuits

Operating Speed

300 rpm* continuous

Lead Wire

UL Teflon® Awg28,Awg22,Awg16,Awg10 (200 mm)

Voltage

600 VAC

Operating Temp.

-40°C to 80°C

Working Humidity

60%RH

Torque

Approx. ≤9.55 g·m (for reference )

Dielectric Strength

≥1000V@50Hz between each circuit

Insulation Resistance

1000MΩ@ 600VDC

Noise

Less than 60 mΩ @ 6 VDC, 50 mA, 5 rpm

Housing Material

Aluminum Alloy

Protection

IP54
*Please note that the operational life of the unit is dependent upon rotational speed, environment and temperature.
Options
Longer lead lengths available
Power and signal combinations
Rotor and stator lead exits
gold alloy brush,Gold plated rings
IP65,IP68 are optional
flange mounting is optional
SNH060(flange mounting-Optional)Dimensions

60.00mm(2.362 inch) through-bore size.
Compact 130mm outside diameter; smaller OD, customized on request
2,3,4, 6, 12, 18, 24, 30, 36, 48, 56 circuits are standard, others,need to be customized
Signals, 5Amp, 10Amp, 20Amp current version; >24Amp, customized on request
Speeds up to 300 rpm continuous, >300rpm, need to be customized
Steel bearings and machined shaft and housing for harsh environments
Collar mounting is standard; flange mounting is optional
Various lead exits are available
Silver plated rings are standard. Gold plated, optional.
precious metal brush are standard. gold alloy brush, optional.
Awg28,Awg22,Awg16,Awg10, 200mm lead wire are standard, >200mm is optional.
Continuous 360° rotation of power or data signals
Protection grade IP54 is standard, IP65,IP68, optional
Aluminum alloy housing material
Benefits
transfers control and data signals
Fiber brush technology provides maintenance-free operation (no lubrication required)
Modular design meets special requirements through off-the-shelf manufacturing techniques
Customized configurations for your application
Quick shippments